4
minutes read

This is the time to make some space for yourself and the people you love. This is the time of festivities. As November dawns over us all in its magnificent glory, surrounding us in the sparkles and lights, there is little more to be said for how exactly should one approach them. Diwali being just around the corner calls for attention the correct, more enjoyable way to go about it. If you happen to be looking for the same, you're in the right place. Moreover, if you are looking from seas abroad, into the heart and depth of Indian culture, looking to maximize your experience, Stay Tuned!
In this blog we will list the best places where Diwali takes on an even greater hue so you get to enjoy the festival of lights in all its glory. This is your Diwali 2023 list, where we measure the festival vibes and the best ways of celebrating them!
If you feel hesitant, you can easily connect with people of the cities using the Explore Your City feature on Explurger, which can further allow for a richer experience. 
AYODHYA, UTTAR PRADESH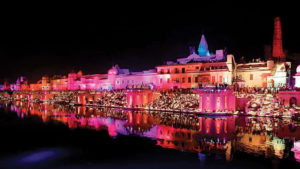 As we know, the story began here. The festival of lights wouldn't exist if not for this, something clearly visible in the way people gather from all over U.P. to celebrate Diwali here. The rituals and the fun lasts for about four whole days. The lighting of the diyas and pouring them out into the Sarayu River is a huge ceremony here. Don't miss out the Aarti on the ghats, the mesmerizing temples and, the city decorations. If Diwali 2023 is your time to explore, definitely check Ayodhya out.
MYSORE, KARNATAKA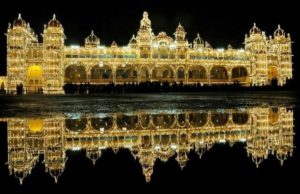 Mysore is famous for its uniqueness, whether the architecture, the weather or, people. Diwali celebration is just another way for the city to show it off. The UNESCO Heritage centre, Mysore Palace, looks breathtakingly beautiful in twilight as it glitters with thousands of little flickers of lights.  Devraja market, is again, a major highlight for shopping, fun and ultimate festive vibes. The entire city, in fact, overflows with celebratory joy and unrestrained energy. So, if you wish to celebrate Diwali 2023 at a place where the air is crisp and the bounties stacked, Mysore is the place to go.
JAIPUR, RAJASTHAN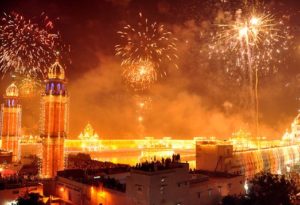 The city is vibrant during the festive seasons and especially during Diwali, it is as if it dawns on another form. With lights all over, rangolis at every entrance, diyas illuminating the depths of the night, Jaipur is one beautiful experience. Jal Mahal and Nahargarh Fort are a must see for a breathtaking view. The festival goes on for about 5 days here, so the festive vibes keep on giving. Add this place to your 2023 bucket list for Diwali ASAP.
KOLKATA, WEST BENGAL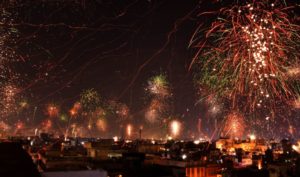 For a little different taste than the usual, visit Kolkata. Diwali here falls with the Kali Puja season. The entire season, from Durga pooja, makes Kolkata super vibrant and attractive to the eyes. You can witness various types of precessions, offerings, worship styles and gatherings here. Pandals, shrines and temples glimmer with lights and dazzling colours. People here seem to abandon restrain and celebrate with a profound sense of enthusiasm that you can only really understand when you live there long enough. This year, 2023, all these align up in October and November, so it's a great chance to end your year with a bang!
UDAIPUR, RAJASTHAN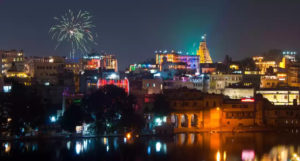 The city of lakes is again a beautiful, calm, and peaceful place to recharge yourself spiritually. The Udaipur Light Festival, featuring lanterns, music, food, dancing and huge gatherings is something one cannot miss. The entire city gets dressed up and throws caution to the wind to mix up and celebrate with their friends as well as strangers. It's the perfect gathering to meet new people and connect. Apart from that, if you wish for a serene time, sit by the lake, which reflects the happenings in the sky and offers an overall great vibe. so, if your plan is to meet new people, Udaipur is your city and, if your plan is to be by yourself in a calm and beautiful place surrounded by nature and city, Udaipur in your place. 
Now that you know about the best places to spend your Diwali, here are some extra tips:
Be mindful of the traditions. Since this is a religious holiday, do follow the rituals. (They can be fun too!)

Carry a mask. People, especially children, tend to burn firecrackers as a part of celebrations. This can disrupt the air quality. (Just take a look at New Delhi's AQI this 2023)

Shop! Whether ethnic wear or little trinkets, don't resist these beauties.

Keep yourself hydrated. It is very easy to get lost amidst the celebrations but hydration is key for endurance to keep the party going.

Stay with locals. They can help you plan your trip better. 

Don't be hesitant to load up the food. Diwali is sort of the best time food wise. The sugary delights and savoury fillings are to die for
This Diwali 2023, open your hearts to the people around you. Connect with travelers for an enriching experience. Explurger has some great features you can use to make this Diwali, your best.
Download the App now!
Android: https://bit.ly/2rcosWD